long songs last night - lame recap
I refused to drive home 45 miles from work and turn around to drive another 30+ miles to Echo Park, so I invited myself to my friend's house in Atwater to waste time. Did the dog walking thing (my only exercise sadly) for almost an hour, until she had to bail for the Dodgers game, leaving me alone for three hours. I originally planned on shopping or maybe a movie before heading to KorK. Instead I spent 2.5 hours at the Carl's Jr parking lot writing like a mad man on the some computer paper lying around in my car. I had crazy fun doing that and before I knew it, it was time to head over to the Echo.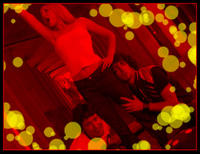 The first band
Sacred Dice
is not normal KorK fare with the primary members Anthony & Louis Cristofani, and Lindsey Kate Hawkins playing long groovy, soul+rock+funk jams that make your body move and head bob. In the short set of only three songs, there was dueling bouts of singing between Lindsay Kate and one of the brothers, which then broke out into a light saber duel, jumping from the stage into the sparse crowd, doing a few laps on the other edge of the club. They threw a couple extra sabers into the audience and these two guys had it out for the rest of the song. Lindsay Kate finished it off with a great cover of Katrina and the Waves song "Walking on Sunshine."
Funny. Didn't realize the band/song choice and timing until now.
Star no Star were much better than the streams on myspace from what I saw. Porterville came on next and what can I say other than they make happy, bouncing people out of any crowd. Seemed like a lot of the younger Club Moscow people were in attendance after their residency last month at Boardners. Later the Waking Hours had Eddie from the OAOT's playing bass with a set ending cover of "Momma Said Knock You Out", with guitar strings ripped out by teeth, amps pulled down onto the singer himself and a general mess on the stage. Crazy, but not as crazy as this
one show
last year.
The Invisible Humans
were alright, most of the songs could've easily been slight variations of each other, but did heard the ramones, devo, cramps influences they listed on their myspace page in them though.
Maybe I was just fricking TIRED, but a couple songs cut off the set would've helped. Each one was naturally droning long, but done well can be quite enjoyable. Thought this was accomplished in the last few songs which were a lot better and I was happy with that ending to the night.
[Just read that this was only their fourth show. Hmm, need to find out more info on this band]
I'm really tired and need to finish the posts I started last week. If I write it maybe I'll do it then.
tags:
kiss or kill